HI guys,
I've had a couple of occasions when my Cruise-Control's not wanted to activate. A couple of taps on the brakes have fixed the issue, leading me to think there was perhaps something at fault with the switch on the brake pedal that tells the Cruise-Control when I'm braking.
Further still, I'll often have my VSA light come on after normal braking. Not heavy or extreme braking, normal everyday braking. The light stays on and will only reset if I switch off the engine and restart the car. The light is
not
the scary one with the ABS, it's just the VSA and "!" in a triangle like this: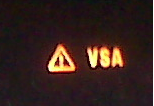 So anyway, I reckon there will be dirt and crud causing faulty connections and confusing the VSA control unit and/or Cruise-Control. So I figured I'd take it out and clean it.
Under the footwell, pressed up against the brake pedal is a large white plastic switch. You honestly can't miss is. It will come out with an easy quarter turn anti-clockwise and un-click the cable from it. Then you should be looking at this:
You can easily take the switch apart with the aid of a couple of small flat blade screw drivers. Once apart, you've got a white part and a black part with a spring loaded black pushrod. In the black half are the switch terminals you need to clean. Some of these will slot in and out for easier cleaning. Once all apart it will look like this: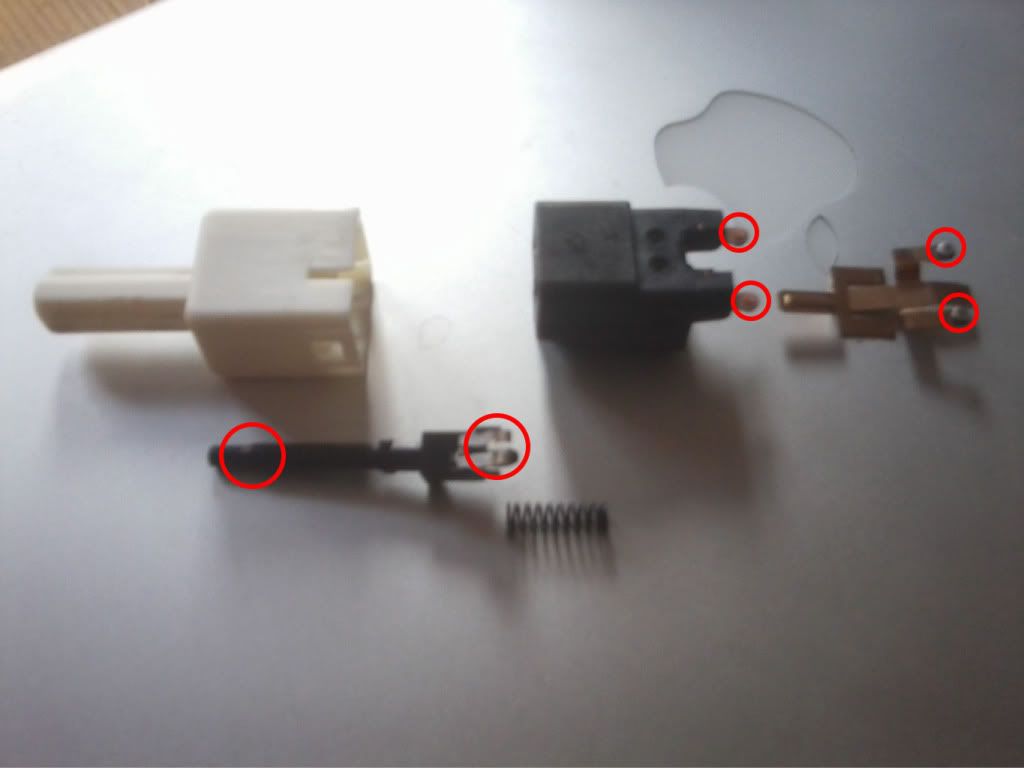 The red circled areas are the areas of attention we're going to be working with.
First of all, carefully slot out the one half of the terminals that will remove. You should be presented with this:
Now use a very small wire brush (or old tooth brush if you haven't got a small wire brush) and very gently clean off residue, dirt and grime from the areas circled in red. Then give them a good going over with cotton buds dipped in some sort of cleaning fluid. I used White Spirit, a bit extreme perhaps, but it did the job.
The area circled in blue is slightly bent in order to be springy, as part of the switch mechanism. I gave this a tiny tweak and bend to increase the springiness on the assumption that it will have lost some of it's original springiness over the 9 years of use the car's seen.
Another key area to clean are the metal contacts in this picture, again circled in red:
Cleaning these should help with the smooth movement of the switch.
Now the pushrod of the switch. Two areas to consider here:
Firstly the part circled in pink are two little metal pins that are acting as springs. Give these an extremely gentle tweak outwards (and I mean very gentle!) away from the shaft in order to put a tiny amount of rigidity and springiness back into them. This should help the switch feel tight but smooth.
Finally, the area circled in blue is where the rod goes through a hole in the white casing. I put a very tiny bit of grease here to make the switch a little smoother in motion.
Once all of this is done, simply click it back together. You can't put it back together wrong as there are all notches and things that mean it can only be assembled correctly. Then put it back in the car. For this, leave the brake pedal where it is, slot the switch in until it is pressed and will not go any further and give it a quarter turn clockwise. Don't push it through further than the brake pedal's resting position otherwise it will stop your pedal retracting as far as it wants to meaning the brakes may always be very slightly on
.
Anyway, apologies for the slightly blurry photos, my phone's camera is pony. I hope this is of some help to people. I've yet to test drive the car, so have no idea if this has actually made any difference. But assuming it has worked, I've saved myself a little money for 15 minutes work. And hopefully I've saved some of you guys some money too.