So, the age old question of lowering gets asked over and over probably on every car forum on the planet.. and TA will be no different.
To my mind there are 3 distinct options for lowering your car (this applies to most cars) and the Accord is no different. The thing that will probably dictate which you go for is cost... and possibly flexibility (the ability to alter your ride height to spec).
The cheapest (and probably most common) option is to fit a set of lowering springs to replace your factory springs. This setup requires you to mate your factory shock absorbers with a lower spring. This gives you the 'drop' and some improvement in handling, but it's definitely the cheaper end of the spectrum and any gains you get will be limited. You are also probably going to reduce the life of your shock absorbers as you are effectively forcing your shock absorbers to remain compressed at a rate they were not designed to. Potentially this will also affect your ride composure and whilst the ride may be perfectly acceptable, you might feel like you're not getting the most out of your car.
At the end of the day, one of the Accord's many virtues is its comfort and ride quality - and it would be a shame to not meet it's full potential if you are prepared to stretch your budget further.
Don't let this put you off however. Many members have successfully lowered their Accords (and other cars) using springs, and it's perfectly acceptable. The spring of choice tends to be Eibach - and I would concur that this is a quality brand, and their springs are progressively wound for better ride/handling characteristics... they're also designed to work with standard shocks so you tend to get the best blend you can achieve with standard shocks.
More info/views in this thread here:
http://typeaccord.co.uk/forum/index.php?/topic/568-the-eibach-thread/
So the next option (and the one I've currently been riding on for the last 2 years now) is the complete strut setup. In my case, this is the Honda A spec lowering kit - available from your Honda dealer only.
Don't be confused by the Type S lowering (which is lowered around 15mm from the factory) - the A Spec is a dealer only upgrade, not available as a factory option. It's a complete shorter shock and lowering spring setup, designed by Honda for this range of car. There is one kit for all 3 variants (2.0/2.4 petrol and 2.2 diesel) and the size of your engine/vehicle kerb weight will determine the level of drop you achieve.
From what I've seen with my own and other member cars, the diesel achieves by far the best drop (as the engine is the heaviest). I have achieved around 40mm at the front and close to 35mm at the rear. Perhaps others who have fitted this kit to their Accord will comment on what they have achieved but I recall seeing that the 2.0 petrol guys see around 25mm - 30mm all round, and a bit more for the 2.4 petrol.
I am referring to the saloon by the way, the tourer may be slightly different (as the tourer has a different rear suspension ***embly).
Here is a pic for comparison of old strut vs A Spec strut - note the shorter strut but greater number of coils: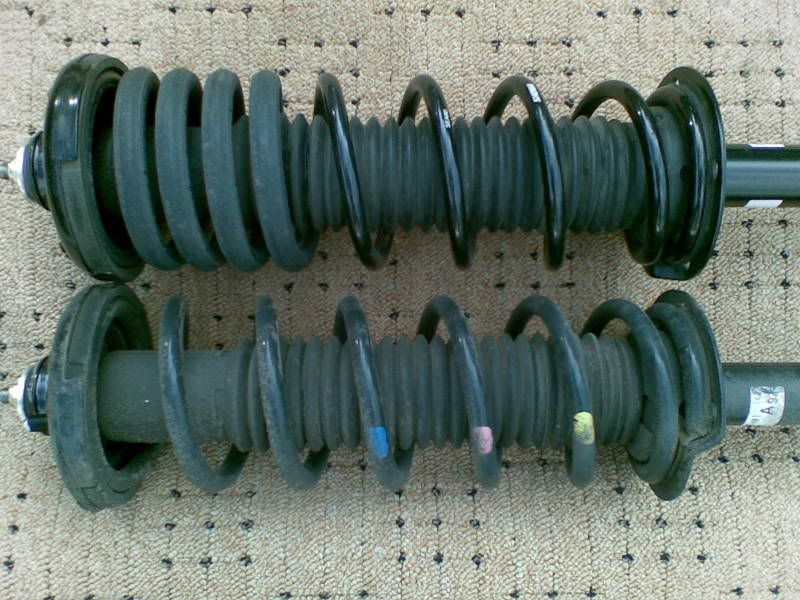 Here is a before and after shot right after it was fitted, note the drop got a bit lower after it settled in: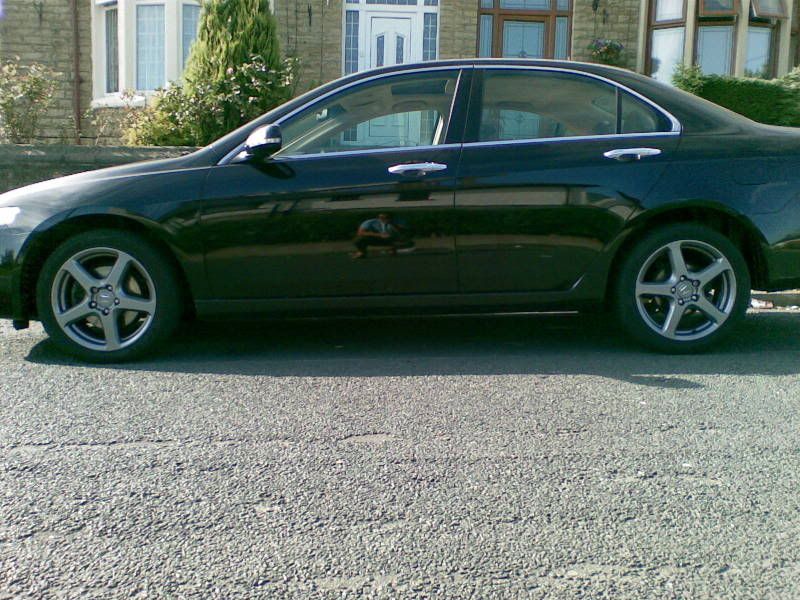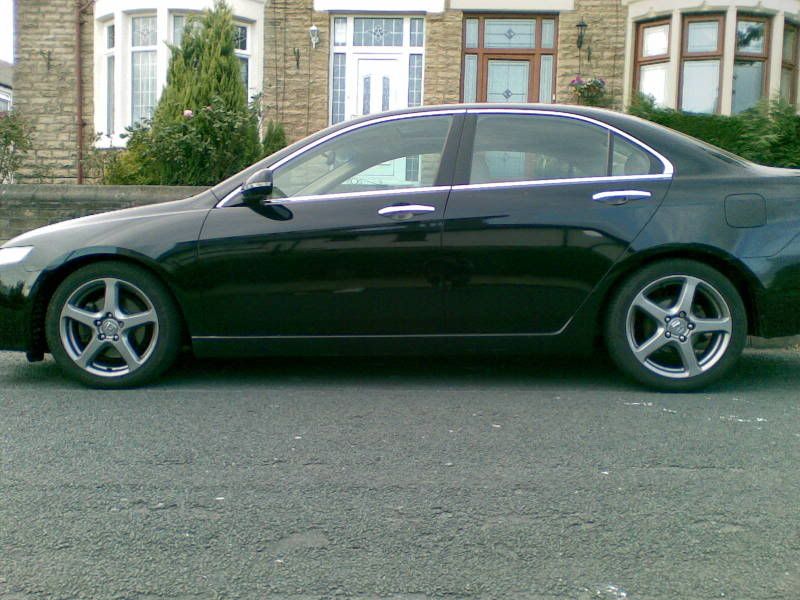 The ride quality is excellent, it really is. Of course it is firmer, but crucially it is composed. The handling is much sharper, and whilst the nose heavy diesel will never really be a proper drivers car, the A spec suspension really makes for an entertaining drive. I would describe it as extremely tidy, rather than Type R like.. I've also added a strut brace and had the geometry computer aligned so I know it's handling to it's potential.
At the end of the day, this is the suspension that Honda designed and tested for this range of car, and if you're looking for a decent drop without compromising comfort, then it's a very good option. I believe you can now pick up this kit from Honda for less than £500 + fitting. If you calculate what a lowering kit and new shocks would cost you anyway, then you're not far off that price really - and this is a Honda part.
The final option for complete flexibility is of course coilovers. The coilover of choice seems to be Tein. And whilst I haven't tried these for myself, the only comment I would make is that they are a very high quality product and will give you the ultimate flexibility if you want to go lower than the A Spec and still maintain decent ride quality. Again, perhaps others who are using this setup can share their experience here.
Finally, remember that suspension alone will not determine the ride quality.. Tyre profile will have just as dramatic an impact. I went from 45 profile to 40 profile tyres and felt quite a bit of difference in ride quality (it was much firmer) and then this year, I went down to a 35 profile tyre when I upgraded to 19' rims, and my ride quality has become quite firm.
Thankfully my car spends most of its time on the motorway, and for those journey's it's fine.. but for city driving, lowering and 35 profiles (especially with the proliferation of potholes everywhere) I would advise caution about this setup.
Please also remember that lowering your vehicle WILL alter your cars geometry. You might get lucky and it may remain within spec, but chances are a 30mm+ drop will knock your camber and toe out. It's always best to have the geometry checked and aligned so you can really enjoy the new setup, and minimise uneven tyre wear.
Hope that helps some of you thinking of upgrading your suspension.