Another forwarded by Terry Vincent to me, originally created by Alnug I believe.
Tools required:
A syringe with a small tube attachment...the tube size needed at the end is what you will find in common bic biros
. Or you can use a grease gun or some sort.
A GOOD o-ring compatible grease or a high quality medium/thick silicone grease.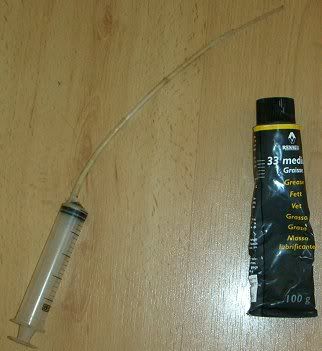 Mine was a silicon based grease i bought from Renault many years ago..was used for ball bearings on plastic runners. It's very good stuff and sticks where it's placed plus is high temp compatible...this is important since clutch fluid makes the clutch master cylinder hot.
DO NOT..I REPEAT DO NOT! use WD40 or similar water displacing/ grease removing fluids (yes wd40 actually removes grease!) read below. ALSO Spray can lithium type greases or silicon sprays are also less effective since they don't have the viscocity. Some say it lasts for about a month if that and I have no idea how the lithium reacts with the o-rings.
What I'm trying to say is that the grease type used will determine how effective this is.
METHOD
---------
-look up into the footwell and see where the master cylinder rod goes into the clylinder from the clutch pedal. where the rod goes in you'll see a holding washer(??) which prevents the rod from springing all the way out..on this washer there are two notches cut out and these notches are where you will insert the syringe extension tube (see pic where syringe enters)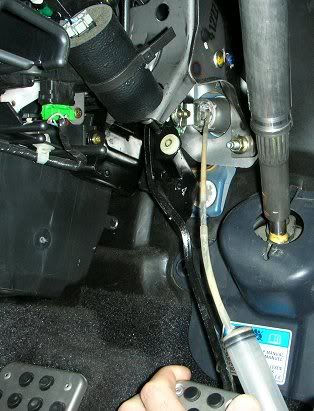 -push and HOLD the clutch pedal inwards...this is IMPORTANT! not doing so will mean you don't get the grease all the way in.
-push the extension tube of the syringe as far into the holes as you can and squirt in some grease.
-rotate the washer, where your syringe enters round,...yep it actually moves around and squirt in more grease...do this all the way round
-once you've squirted in enough grease try spreading it around the inside of the cylinder+pushing it as far into the cylinder using the syringe extension.
- once that's done work the pedal backwards and forwards to work the grease in. some/ a lot may squirt out of the two notches in the washer but the grease will be where it's needed.
Hopefully that will fix the creak/click for a long while...enjoy the drive!
DO NOT..I REPEAT DO NOT! go squirting WD40 or similar fluids in there...it may work for a day or more but as the fluid evaporates the lubricity (is there such a word!!!??) vanishes and you're back to the beginning. Worse still WD40 removes what grease was in there to begin with and also dries out the rubber/EPDM that makes up the o-rings in the cylinder and you end up being worse off!
You've been warned! you need a thick grease which will stay put.