Messages

1,400
Reaction score

36
Location
Car

Honda 2.2 i -ctdi
Here is the DIY to show How to remove the old (Long) Aux belt and replace it with the newer 'short' version which reduces load on the alternator bearings... I have also removed and replaced my alternator with another unit.
My car USED to sound like this.. this is the sound of the clutch / pulley bearking going.
Click here.
A better quality video is here:
Here
Now as a word of advice. Do this mod BEFORE you get alternator problems. its cheaper and easier just to replace the aux belt then have to do all the other things that require an alternator replacement!
Nowi would like to say thank you to:
Salim.. who spent the time to write this Alternator change thread:
Here
and
jmcg who also has spent the time to write up the HOW TO replace the alternator Clutch Pulley thread:
Here
To be honest, the above two threads made this job very easy.. on a scale of 1-5 (5 being Hardest and 1 being easy) i would say this is a 2/3.
its not 'hard', you just need to take your time and make sure things are done properly.
Now to get on to the nitty gritty bits.
tools you may / will need:
10,14,19 & 12mm sockets / spanners
lots of extension bars for your socket set
a 14mm 'swan neck' or 'offset spanner' now i made one of these by grinding down a halfords pro 14mm socket and welding a 4x12mm x 450mm bar on the end ( will get a picture up) this tool i used to release the tension on the aux belt.
jack & 2x axle stands
Now lets move on to the job.
this is the belt length difference :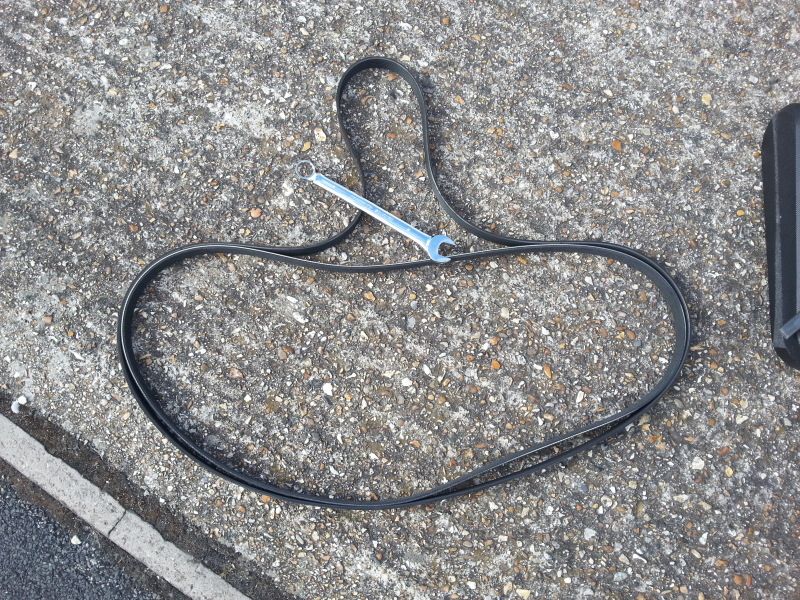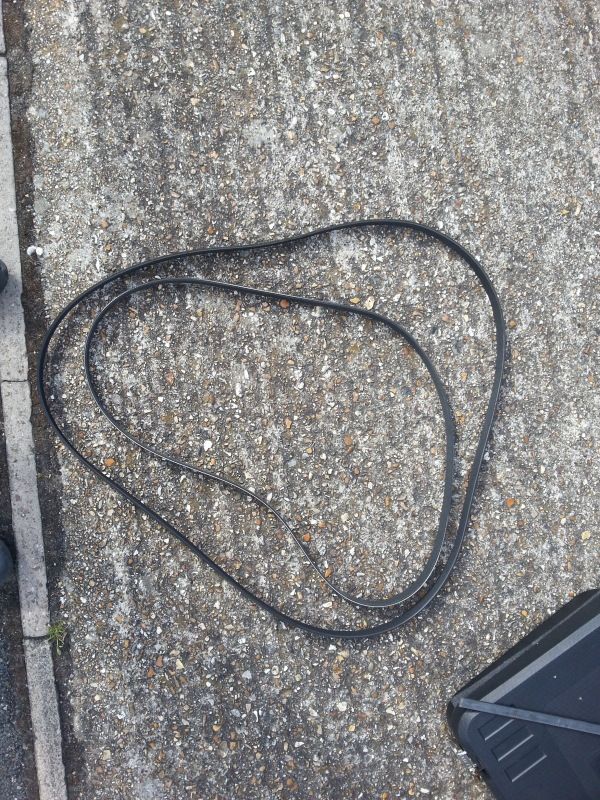 now jack up the front of the car: ( i used the central jacking point)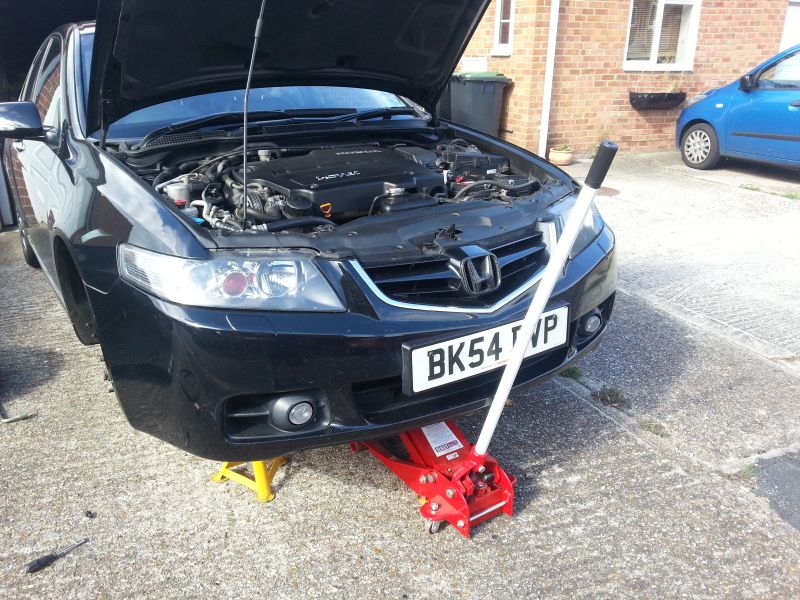 and secure with the 2 x axle stands... i put these under the main front suspension bush/ chassis joint as it is very strong around here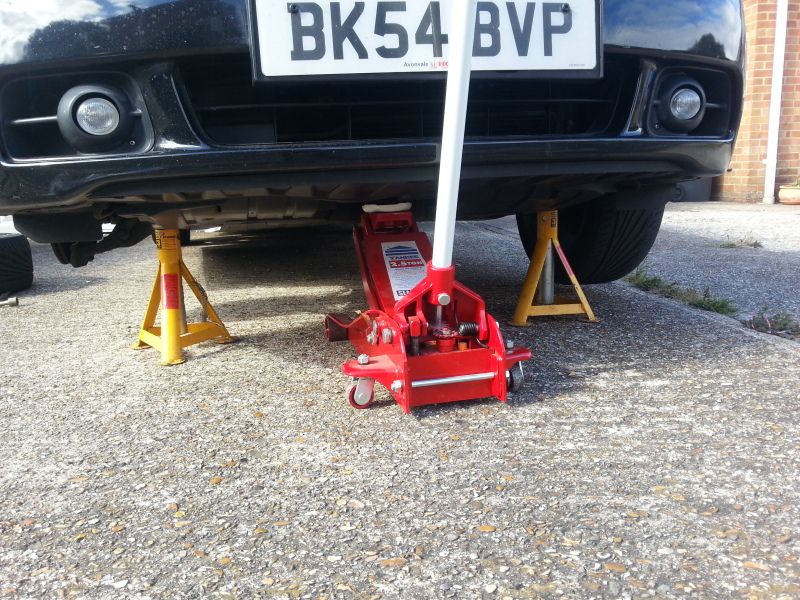 Next get your tool of choice to slacken the aux belt tensioner and attach to the nut (the wheel below the 'golden' colour idler puller
now try and get the tool as far forward as you can as you will be pulling back towards the front of the car. picture below shows how far i was able to get back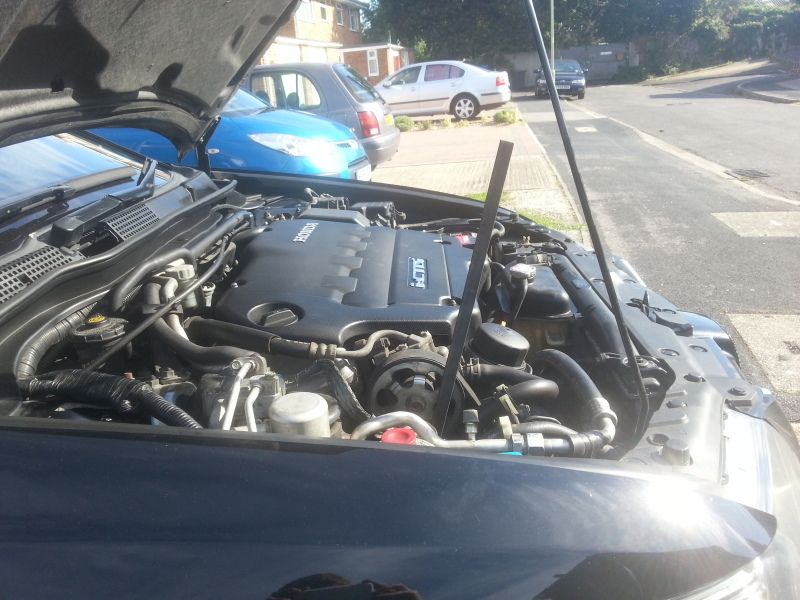 Pull towards you like so: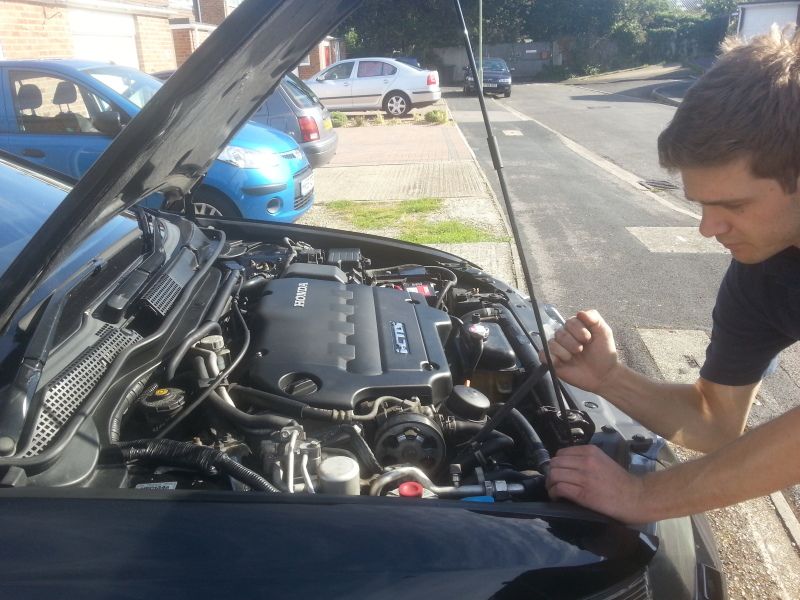 and quickly get the belt off the top pump, once the belt is off the top pulley. release tension on the auto tensioner.. it will go forward quite a long way but this is fine.